Social Responsibility
Everything But The Turkey
Join hundreds of volunteers the week of Thanksgiving.
Overview
Prepare Thanksgiving-themed dishes that will be distributed by DC Central Kitchen.
A signature program of the Edlavitch DCJCC since 1996, Everything But The Turkey (EBTT) brings together hundreds of volunteers to chop, mix, grate, and prepare thousands of servings of festive Thanksgiving dishes for people experiencing food insecurity and homelessness in the DC area in partnership with DC Central Kitchen.
Sign up for a spot to make green beans, kickin' coleslaw, savory stuffing, collard greens, yummy yams, or apple crumble. No cooking experience necessary!
Registration for this year's Everything But The Turkey opens on Tuesday, October 10, at 9:00 AM and spots go fast. If you do not already have one, please make sure to create a My EDCJCC account before registration to ensure a smooth sign-up process.
The presenting sponsor of Everything But The Turkey is the Annette M. and Theodore N. Lerner Family Foundation
---
Fighting hunger doesn't stop with EBTT – we have to change the way our food systems work so that fewer people have to fight a daily battle to find their next meal.
We hope you might take a few minutes to learn and take action in the following ways:
Frequently Asked Questions
Everyone! We invite volunteers of all ages and backgrounds to join us (you don't have to be Jewish to volunteer). There is a special program for families with children under 7, a separate shift for young professionals, and two shifts open to everyone. Some of the recipes are not recommended for children under the age of 10, but that will be indicated on the registration page.
Yes. We request a tax-deductible program fee of $20 per person to offset the high costs of quality ingredients we use in all of the dishes we make during EBTT.
Please email Mira and she will help you out with registering for this program.
Unfortunately, we are unable to accommodate walk-ins for any portion of this event. All participants must register online by the registration deadline.
We are very happy to help! Please email Mira with your needs.
Yes! Each table holds 8 people. If you would like to reserve a table, we have sponsorship opportunities available. Otherwise feel free to reserve as many tickets as you would like. Please note that you will need to share out the program details with everyone in your group if you reserve multiple tickets.
The food all goes to DC Central Kitchen, where it is cooked, plated, and sent out to community agencies that serve these meals on Thanksgiving.
Due to the large number of volunteers attending all EBTT events we kindly request everyone is masked for the duration of their shift. We want to send everyone off to their Thanksgiving holidays healthy!
Thank you to our 2023 sponsors!
GOLD SPONSORS:
Jeff Menick
SILVER SPONSORS:
Johanna Chanin and Randall Levitt
Cornerstone Research
The Nussdorf Family
BRONZE SPONSORS:
Janis and Phillip Schiff
Rhea Schwartz and Paul Wolff
Director, Morris Cafritz Center for Social Responsibility
Assistant Director, Morris Cafritz Center for Social Responsibility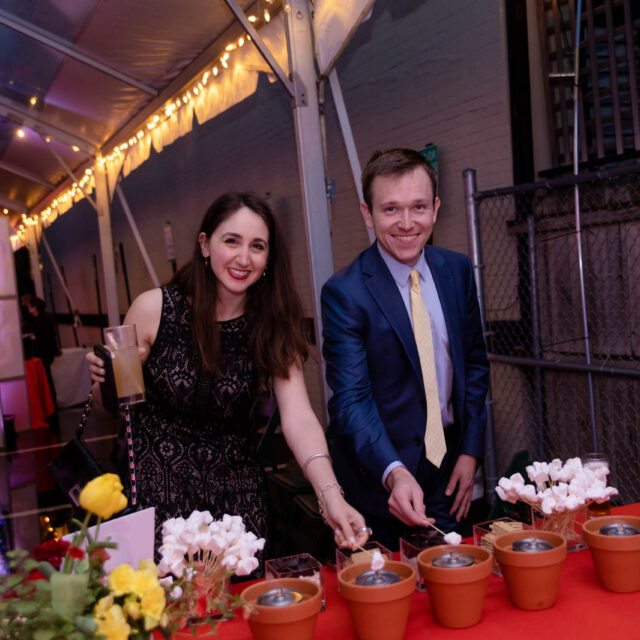 Join Our Email List
Stay updated on what's happening at the EDCJCC with the insider track on events, family programs, fitness and more.