Youth & Family
Preschool
Ages 18 months – 5 years
Overview
The Edlavitch DCJCC Preschool fosters a nurturing environment of open-ended exploration and growth that deepens our connections to our community, to Judaism, and to the world around us.
Intended to accommodate your family's needs and schedules, our program provides a day full of learning and fun for children ages 18 months–5 years, year-round, from 7:45 AM–4:15 PM with the additional option of aftercare until 6:00 PM.
Conviently located near the Dupont Circle and Logan Circle neighborhoods, we are accessible by all major public transit and within walking distance to playgrounds, and much more. Our recently-renovated 1926 historic five-story, 60,000 square foot building features an indoor heated pool, 2 theaters, a dance studio, fitness center, classrooms, and more. All preschool families are provided free Fitness Center membership as part of their enrollment.
"It's a fun and loving community that fosters a feeling of care for all the children here."
Child-Centered Learning
We are proud of our commitment to a child-centered, play-based, emergent curriculum that promotes a collaborative learning environment and prioritizes children's interests and curiosity.
We incorporate Shabbat, Jewish holidays, and Jewish values into our curriculum, but we also respect the diversity of our families. Music, art, yoga, outdoor time, and gross motor play are a regular part of our learning.
Admissions
Accepting applications for all future school years. Limited spots available for the current school year.
FAQs
Tuition and Fees
Our monthly tuition includes our core school day (8:45am-4:15pm) and our Early Room (7:45-8:45am).
For the 2023-2024 school year, our monthly tuition will be:
18-month class: $2,675 per month
2-year old classes: $2,550 per month
3-year old classes: $2,400 per month
4-year old classes: $2,280 per month
Aftercare from 4:15-6:00pm is available for an additional $25 per day with a maximum of $360 per month. You do not need to sign up for or commit to the Aftercare program at the time of registration.
When you sign a contract, we ask for a deposit payment of one month of tuition payment (covering August, the last month of the school year), plus a $320 activity fee. The deposit payment is non-refundable and non-transferrable to other EDCJCC programs.
We charge the monthly tuition automatically to your credit card or through a bank draft/EFT (Electronic Funds Transfer). We accept Visa, MasterCard, Discover and American Express, and charge a small administrative fee for credit card payments. We do not accept check or cash payments. We bill credit cards and bank accounts on the fourth (4th) of each month, or on the nearest business day if the fourth falls on a Saturday or Sunday. We expect that you will have sufficient funds available in your bank account or on your credit card on the 4th of each month. Late fees will be assessed starting on the 5th of the month if sufficient funds are not in your account.
A Family Fitness Membership is included with your tuition! Your family will have access to all of the fitness facilities—pool, gymnasium, locker rooms, fitness center—and a wide range of group exercise classes free to Fitness Members. As always, your DCJCC membership gives you substantial discounts on Camp, Parenting Center, and other programs.
Your Family Fitness Membership will start on the first day of the school year; please visit Member Services for details and to activate your membership.
The activity fee covers all field trips, special events during the school week, performances, and swim lessons in the summer for our oldest classes. This way, we do not have to ask for money throughout the year for the special events.
At this time, there are a few limited scholarships for the upcoming school year. Please contact Miriam Szubin, Director of Admissions, for more information.
Curriculum and Judaic content
It is our intention to foster a nurturing environment of open-ended exploration, curiosity and growth for children, teachers and parents that deepens our connections to Judaism, the community and the world around us.
Our educational vision is inspired by the emergent curriculum principles of the world-renowned schools for young children in Reggio Emilia, Italy. As a school community, we are committed to values based on an image of children as curious, competent and capable. Our journey begins as our staff asks questions, listens to children, collaborates with them and documents their work. As children discover and explore, they work on investigations that last a few hours, a few days, or a few months. All projects are meaningful to them and their world. By creating a classroom environment that allows for open-ended learning and discovery, we give children a chance to build their understanding of the world. By providing "scaffolding," the teachers assist children to become confident in their skills so that they may express themselves in many different symbolic languages—speech, drawing and acting, to name a few. We also believe that learning is a cooperative venture which includes other children, their teachers, their families and our larger community. Literacy, math, social studies, science, music and arts are all emphasized through a framework of hands-on contextualized experiences. Read more about our child-centered approach here.
Yes. Our way of teaching, by having the students learn how to learn, prepares them for success in Kindergarten and beyond. They will build the foundation for literacy, math, science, creative, motor and social skills they will need to do well in later schooling. The difference is that the skills are taught in the context of what is interesting to the children.
We teach about the Jewish holidays and celebrate Shabbat as a school community. We teach human and universal values, but because we are a Jewish Community Center, we teach them through a Jewish lens with the Hebrew phrases. These include Tikkun Olam (healing the world), Tzedakah (charity and justice) and equal rights for all.
Because our school is made up of Jewish, interfaith and non-Jewish families, we do not assume that every family practices or knows about any aspects of Judaism. Therefore, we do some parent education about what the children are learning about and why.
Friday is a special day in our week: it is when the Preschool celebrates the Shabbat with a sing-along, blessing recitation and special snack of challah and grape juice. We celebrate and remember this day of rest that is separate and special from the week. We have found that this tradition is fun for all of the children, even those who do not observe Shabbat at home. We say blessings for the candles, "wine" (grape juice) and challah. The blessings (brachot) are listed in the Preschool Parent Handbook. We welcome and encourage parents to join us.
We maintain our regular hours (7:45 am–6:00 pm) on Fridays throughout the year.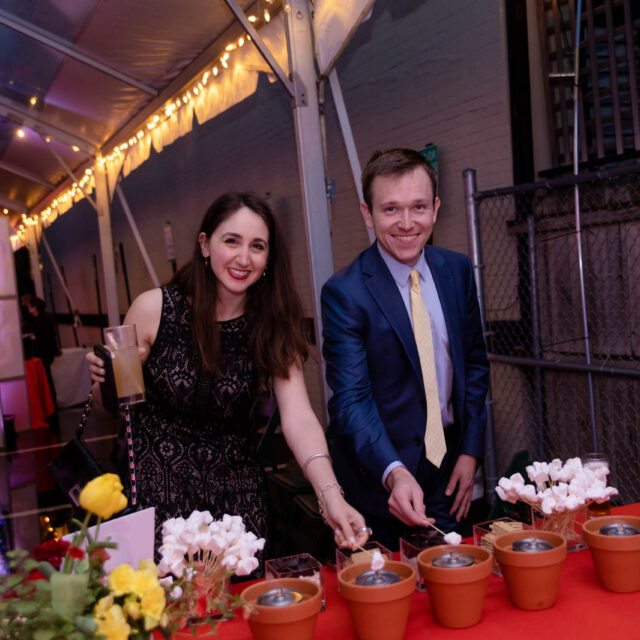 Join Our Email List
Stay updated on what's happening at the EDCJCC with the insider track on events, family programs, fitness and more.